Back To School
A new school year is here. Start this fall season off right with nutritious and delicious meals morning, noon and night. Here's our recipes that will make your kids lunchbox the envy of the lunchroom.
Family Food
Pick up lines. Soccer practice. Homework. Ballet class. Piano lessons. A family's fall calendar can be a little cuckoo. But don't get stuck pulling out your hair and heading to the drive-thru line, instead make an amazing beef meal your kids will go crazy over!
The tastiest burgers
Your Best Burger
Its starts with lean ground beef and your own two hands. The perfect patty may be a simple thing. Some may even consider it the no-recipe staple of most families summer meal plans. But it's a thing of beauty when it sizzles on the grill then gets dressed up just the way you like it and your family gathers around the table in the evening sunshine. Let us help you grill up your best burger yet. It'll have your family smiling and your neighbors sniffing over the fence!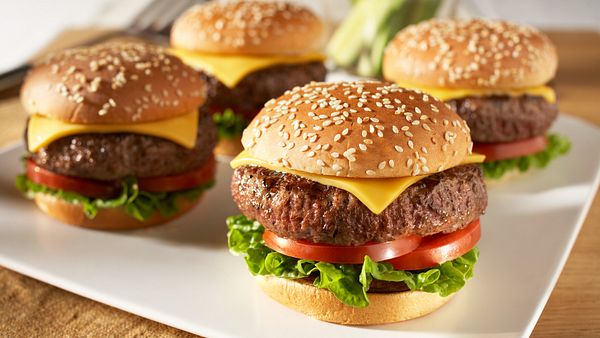 Best of the Northwest
It doesn't get much better than grilled steak, with fresh eastern Washington grown asparagus and sweet onions. Unless it's Washington wine braised beef short ribs. Or seared steak salad with local butter lettuce, dried cranberries, and blue cheese.
No doubt, we have got it made in the shade, the sun, or the torrential rain and overcast here in Washington. Bring the flavors of the Northwest to your table in protein-packed fashion with these easy to replicate recipes. Get inspired and stay inspired by our collections of triple-tested, home-cook friendly beef meals. Carry on, new family favorites await!
PNW flavors
Washivore Recipes
Local is as local does. And nobody does it quite like we do here in the Upper Left USA. When it comes to locally grown ingredients, we've got it going on. Pair the best of the season with savory beef, in easy homemade meals.