Just Do It
Expert Meal Prep
They say the separation is in the preparation. Let us help you meet your goals in a satisfying way with these recipes designed to make the most of your cooking time.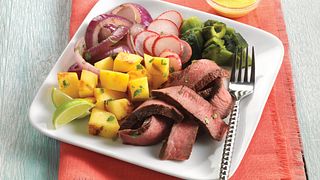 Best of the Northwest
It doesn't get much better than grilled steak, with fresh eastern Washington grown asparagus and sweet onions. Unless it's Washington wine-braised beef short ribs. Or seared steak salad with local butter lettuce, dried cranberries, and blue cheese.
No doubt, we have got it made in the shade, the sun, or the torrential rain and overcast here in Washington. Bring the flavors of the Northwest to your table in protein-packed fashion with these easy to replicate recipes. Get inspired and stay inspired by our collections of triple-tested, home-cook friendly beef meals. Carry on, new family favorites await!
PNW flavors
Washivore Recipes
Local is as local does. And nobody does it quite like we do here in the Upper Left USA. When it comes to locally grown ingredients, we've got it going on. Pair the best of the season with savory beef, in easy homemade meals.